A mattress choice for the smallest member of the family!
The cot plays an important role in the life of the new family member, as it will spend most of his time there. Babies sleep up to 17 hours in the first months of life, so it is important that the baby feels comfortable. If the baby is happy, the mommy is happy.
That's exactly what we're going to help you with in our article to make your job easier!
Buying a mattress for a 1-4 year old child is not as easy task as you might think. There are many factors that can influence our choice. In addition to coconut mattresses, which are popular on the domestic market, we can choose from many other types. But let's take a look at what requirements to set when buying a baby mattress!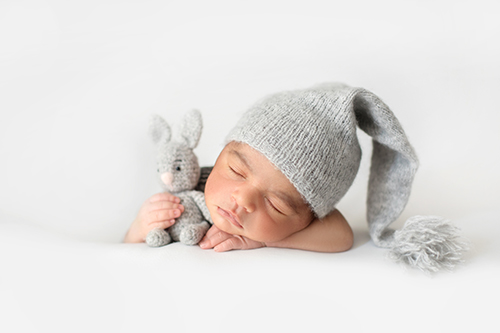 For these types of mattresses, forget about zoning! We do not want to convince ourselves that which mattress is good for us, as well for the little one, because there are no pressure points like in the case of an adult person.
In terms of development and growth, it is extremely important to properly support the spinal column, back and neck, so make sure that you do not choose a soft mattress for the first few years! Up to the age of 1, sleeping on the back is recommended for babies. Of course, during the waking time, under supervision, we need to consciously accustom ourselves to lying on the abdomen. When the baby is already propped up on his/her own and learns to raise his/her head, it'll be an easier task for him/her to exercise on a harder mattress. Unfortunately, the perched, soft mattresses do not provide adequate support for this big step in its development!
Height is also a determining factor when choosing a baby mattress. Do not think about thick mattresses, since most cots are designed to fit a mattress 6-12 cm high into it so that the anti-fall can still do its job. The mattress should fit exactly into the bed. Can't be bigger or smaller.
The surface of these mattresses should provide a caressing sensation and be made from a pleasantly tactile, skin-friendly material that does not cause allergies, since the little ones are much more sensitive to environmental influences.
Let's look at one or two specific types.
Pure coconut mattresses are very popular in infancy because they ventilate very well and provide hard support. Its advantage is that it does not absorb fluid and the body fluids easily evaporate. But perhaps what most parents especially like about these products is that the whole mattress can be washed out or through if you remove the covers from it! However, expect at least 1 day of drying time. We will also benefit from the purchase of a waterproof mattress protector! That's less time-consuming than washing a mattress. We'll be grateful for it later.
The downside is that it's a really hard mattress, so the next mattress choice will surely fall on a more flexible material. These can be coconut/latex, cold foam or a combination of these ingredients.
There are cold foam mattresses from a very young age, there are many types of them, which can only be limited by our imagination. Based on our experience, if not the first, but when choosing the second recliner, mattresses with two types of hardness are the most popular. We have reached the second stage of growth with the child, so the crib of the current size can stay with us for several years. The advantage of two-sided mattresses is that at first the children will prefer the harder side, but as they grow, there will be a demand for softer mattresses, as they will begin to sleep sideways, and last but not least, their weight will increase, thus creating pressure points.
Cold foam mattresses are flexible and are available in a lot of hardness on the market. Their timelessness depends on the quality of the foam. It is important to emphasize that the material structure of cold foams is open, thus avoiding harmful carbon dioxide re-inhale. Thanks to the development of the raw material itself, antibacterial foams have already appeared on the market, which prevent the establishment of dust mites.
We do not recommend baby mattresses made of memory foam and bag spring! I wouldn't elaborate much in this article, but we don't think it's suitable at this age!  From the age of 6-7 years there are already suitable youth mattresses from these raw materials, but until then, avoid these types!